Dog Beach at Honokohau Harbor
Yes, the infamous "Dog Beach" of Big Island!
Location: Honokohau Harbor, 73-4786 Kanalani Street, Kailua-Kona, Hawaii 96740
Driving Directions: From downtown Kailua-Kona, drive north on Queen Kaahumanu Highway to Kaloko-Honokohau Harbor (with a traffic signal) where you will turn left.  Drive past the first right and follow the right bend on the main road. You will see cars parked at the end of the road. After you park, the beach will be in plain sight. Be prepared to trek over and down 70 yards of lava rock to reach the beach.  It is not sharp, but can be a bit cumbersome to traverse.
Review: This is a popular off-leash beach for dog lovers.  If I visit this beach prior to 9 a.m., chances are good that we will be the only ones.  If you are looking to socialize your dog(s), Sundays around 11:00 a.m. is a popular time for the regulars…dogs and their humans frolicking in the gentle water.  This is also a popular spot for SCUBA divers and some snorkelers, so make sure that your swimming dog doesn't follow them out into the deep water!
MARCH 2017 UPDATE: I have heard from several readers that this beach is deteriorating: water is foamy and brown (from the currents) and the sand is gross due to homeless people and irresponsible dog owners who either do not clean up after their dogs or just leave the poop bags somewhere along the path (Note: Most "compostable" bags do not break down for many years, and even if they did break down quickly, the poop would still be there littering the beach).  There are NO trash cans, so bring several bags to put your waste in and dispose properly.  I've also heard about problems with intact and/or aggressive dogs whose owners do nothing to control them.  This does not help our cause when we ask and plead for more dog-friendly parks and beaches.  I'm interested in hearing from our readers on suggestions or their recent experience.  Remember, this is NOT a County beach, so they do not have jurisdiction over it.  If it was a County beach, no dogs would be allowed.  If it was a Federal park, dogs would be required to be on a leash no longer than 6 feet long, so I believe this particular beach falls into a separate ownership/management category.  It is basically self-regulated, and that's why there are no trash cans, lifeguards, etc.  If you know who owns or manages it, please contact me at rhonda@lavadogshawaii.com
ALERT: The park does not have life guards or bathroom facilities.  No trash cans, so please haul your trash out with you and dispose of properly!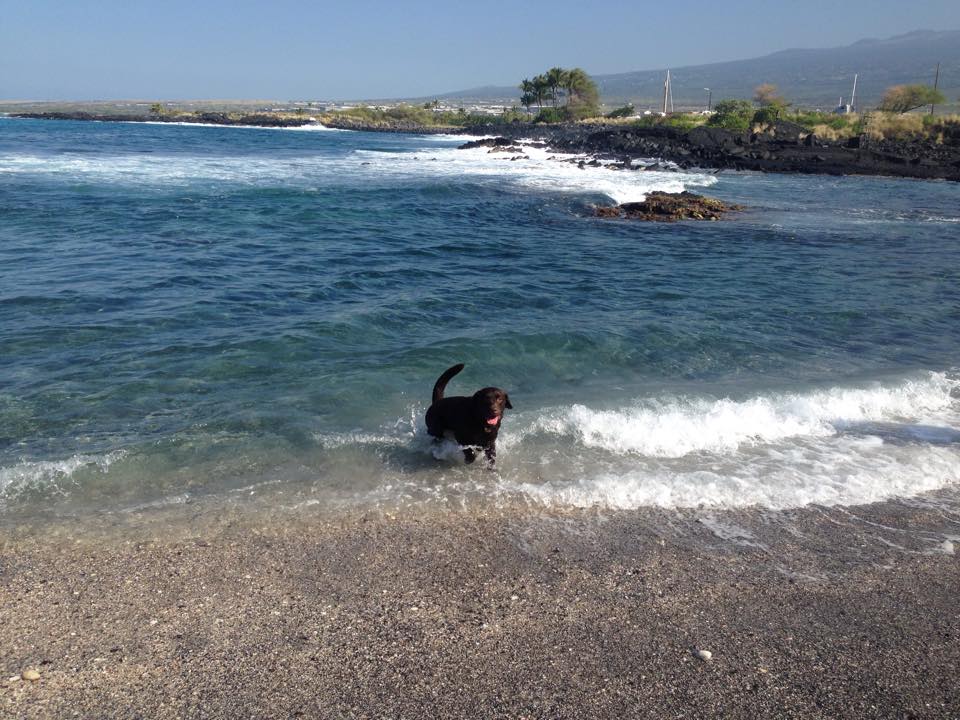 General Beach Etiquette for Dog Owners
Take your dog home at the first sign of unfriendly behavior.
Puppies and dogs should be vaccinated and healthy.
Keep close supervision of your dog and do not let them near honu (sea turtles) that frequently sunbathe on the rocks and beach.
Dogs in estrus/heat should be left at home.
Pick up and properly dispose of your dog's waste.  Compostable poop bags doesn't mean you can leave the bag there at the beach or in the parking lot!
How to keep your dog safe at the beach
When taking your dog to the beach, make sure there is plenty of fresh water and shade. Dogs can get sunburned just like humans, so limit your dog's exposure to the hot sun and apply a zinc-free sunblock to his ears and nose 30 minutes before going outside.
Be careful not to let your dog spend too much time on hot sand or asphalt. Dogs can burn their feet just as easily as we can.
Cool ocean water is very tempting to a dog. Don't allow your dog to drink too much seawater. This can cause diarrhea or vomiting and quickly dehydrate them.
Swimming is a great form of exercise for dogs, but don't let them overdo it. They will be using new muscles and may tire quickly.
Running on a beach is strenuous exercise and a dog that is out of shape can easily pull a tendon or ligament. If your dog is out of shape, don't encourage him to run on the sand.
The beach can present many hazards for your dog. Things to watch out for include boats, fishhooks, dead fish, honu (sea turtle), Keawe tree thorns, wana (sea urchin), garbage, and broken glass. Lava rock can be very sharp and can easily cut you and your dog's feet.