Dog Sitting, Doggie Daycare, Overnight Boarding
Paws University
73-4259 A Hawaii Belt Road
Kailua-Kona, HI
(808) 325-6436
www.pawsuniversity.com
Paws University is a fantastic facility that offers dog boarding (Starting at $32.45/day), doggie daycare ($25/day; offered Mon – Fri. 7am – 6pm and Sat. 7am – 4pm ) and now CAT boarding (Starting at $22.50/day).  Discounts are available for multi-day/multi-pets.  Puppy Boarding School (a one-month program designed for puppies between ages of 4 – 7 months old) and Paws-itive Change Boarding School (for dogs over 6 months old who are displaying undesirable problem behaviors) are programs designed around the specific need of the dog enrolled.  To ensure their safety, each animal is carefully screened prior to playing and socializing while at Paws for the day, overnight, or during extended visits, and integrated into the supervised play group that best suits them.  Owner and operator Allen and Lana Daniels are passionate about their business, and Allen (who is a very experienced and knowledgeable dog trainer) is happy to meet 1-on-1 with dog owners to tackle any questions you may have about your dog.  Paws also offers dog training, agility courses, and grooming.  Please see our DOG TRAINING section for more information and a review of their dog training.
NEW!  In June 2017, Paws University unveiled renovations to their facility including artificial "canine grass" (replacing the gravel) and splash zone areas that are located in two play yards, available to both their overnight boarders and dogs in daycare.  On July 14th, I visited with owner Allen Daniels to tour the upgrades and see a demonstration of the splash pad.  Since the upgrades, he's noticed that the dogs are calmer, and the dogs, facility, and water bowls are much cleaner due to the canine grass (versus the dusty gravel they once had).  While there, I noticed one dog sitting in the corner alone, but once Allen turned on the water to the splash zone, the once lonely dog became the star of the facility!  She was leaping through the water squirts and sprays, biting and lapping at the water…All of a sudden, I was looking at the happiest dog I have ever seen!  If you're interested in this new feature, keep in mind that you must be a pre-screened boarder (daycare or overnight boarding) in order to ensure the safety of everyone.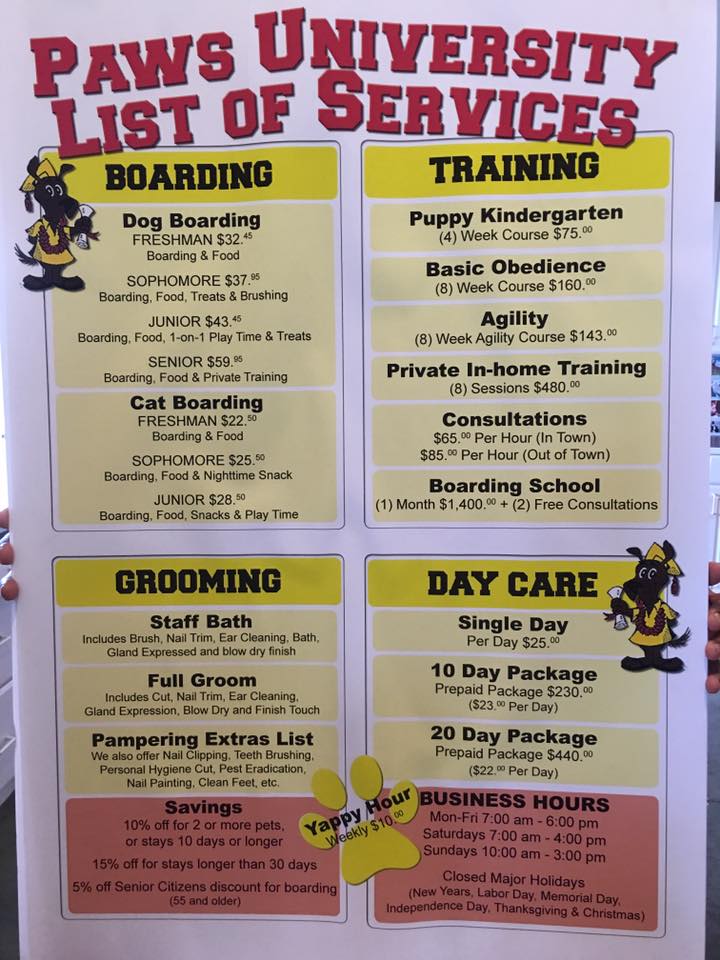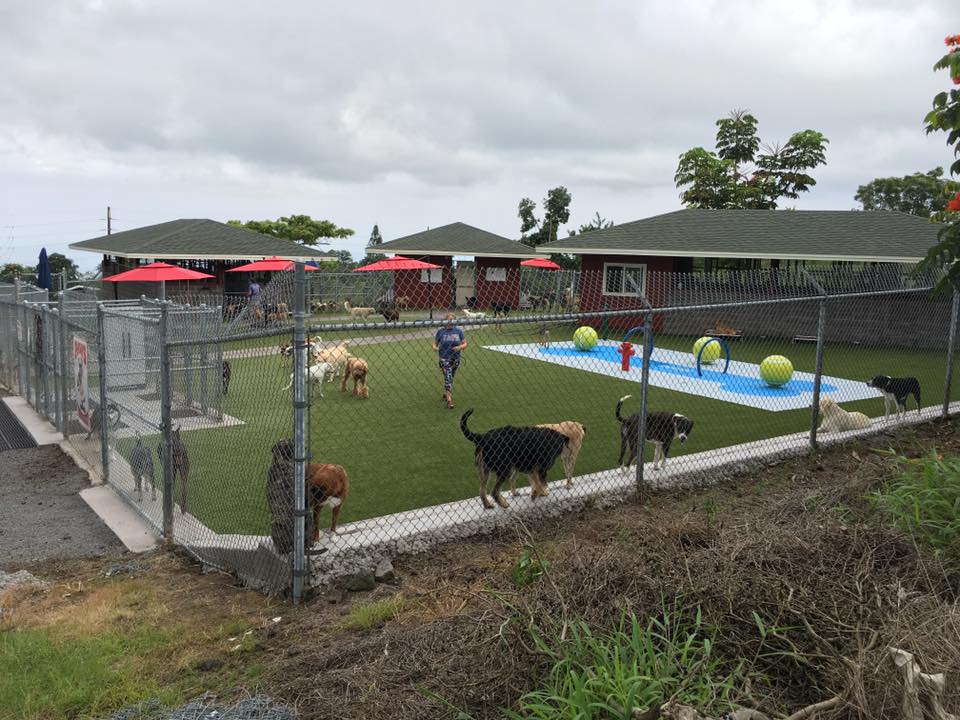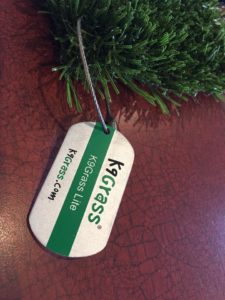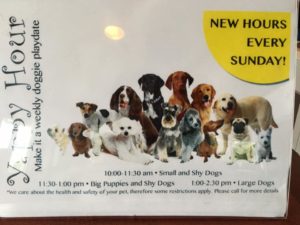 ---
Doggie Dude Ranch Boarding
*NEW LOCATION as of April 2016! – End of Lalamilo Farm Road (the road across from Parker Ranch Arena)
Waimea (Dry side), HI
Call for appointment 936-7805 ask for Gail
CLICK HERE FOR DDR'S FACEBOOK PAGE
April 3, 2014 Tour:  Owner/operator Gail Rice invited me to tour her doggie daycare and overnight facility in Waimea (Dry side).  The facility is located at Gail's ranch home in their big, shaded fenced lawn area.  Right away, I noticed the tall, high-quality aluminum fence and locking gate as I entered the yard area that was absolutely gorgeous!  The temperature was nice and cool, actually a little chilly…Perfect for dogs.  The yard contains a picnic table, chairs, benches, lots of trees, bushes, and a box of toys.  Gail let the dogs out of the kennel for me to meet, and it became very apparent that Gail LOVES dogs and knows how to handle them…and the dogs love Gail!  "Intact" dogs (not neutered/spayed) have "CAUTION" tape tied around their collar, but are permitted to interact with altered dogs as long as everyone gets along.  Dogs receive play time, snack time (healthy treats, Big Island beef bones, and will follow any special dietary restrictions/instructions for your dog), and nap time…and then REPEAT!  Towards the back is the open air, covered kennel area (with individual stalls).  DDR provides day and overnight boarding for medium to large dogs (December 2015 UPDATE: They now board small dogs!  Small dogs spend the night INSIDE Gail's house; no outdoor kennel boarding for them).  They do not close at a set time and work around your schedule, even if you are running late (from a plane arrival, etc.). They are members of Pet Sitters Associates, LLC and insured and do not charge extra for play time or special feeding and meds. $35 for overnight; daycare & $60 two dog friends together.
May 2016 UPDATE: We have yet to see Gail's new location, but we spoke to her and will visit soon to take photos.  She said that they just finished building the "Small Dog" house…This is an enclosed actual house for only small dogs, and they will have their own play yard, completely separate from the large dogs.  The large dogs will be in their own kennels, but have plenty of play time together (as long as they get along) in their own yard.  Here's their Facebook page, which contains photos of their new construction: https://www.facebook.com/Doggie-Dude-Ranch-817809778303071/?fref=ts  Stay tuned for our review!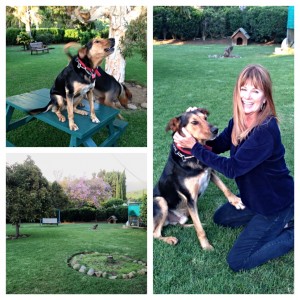 ---
Lucky D Kennel
73-4183 Mamalahoa Hwy #D
Kailua-Kona, HI  96740
(808) 325-7553
www.luckydkennel.com
Available 7 days a week by appointment only.  We have boarded our two pups in Lucky D's "Very Important Pet" large kennels with yard (Large grassy enclosure…like a horse paddock!).  Lucky D is one of only a few facilities that will allow "intact" dogs.  Very professional and caring, family-owned and operated, their private kennels and yards are set on 20 beautiful acres of spacious land, located at 2100 ft elevation, which means warm days and cool nights, perfect for your pets comfort and enjoyment.  Dog boarding is $24/day (kennel); $30/day for kennel with large yard (+ $15/day for each additional dog).  Cat boarding is $20/day for standard kennel; $30/day for VIP (large room).
---
Nose For Adventure
74-5552 Kaiwi Street
Kailua-Kona, HI
**(CLOSED AS OF 9/15/17)**
---
Ohana Pet Sitters
Kailua-Kona, HI
(808) 384-0371
www.ohanapetsitters.com
Devin, Kay, and Regina are awesome!  Licensed, bonded, and insured and with extensive backgrounds in animal care (including horses/livestock, parrots, and exotics!), they provide services in your own home (in Kailua Kona, Keauhou, Holualoa, Kealakekua, and some Captain Cook areas) that include pet sitting, dog walking, massage therapy, nature hikes, bathing and other hygiene related items, as well as run errands for you!  When kenneling is not an option, you can feel confident that Devin and Kay will provide your animals with lots of care and love.
---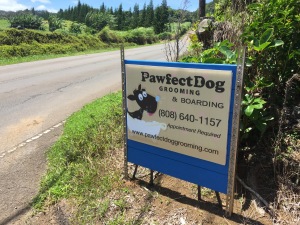 Pawfect Dog Grooming & Boarding (As of September 2016, now accepting large dogs in addition to small dogs!)
55-828 Hawi Road.
Hawi, HI  96719
(808) 640-1157
https://bigislandgroomer.com
Facebook: https://www.facebook.com/Pawfect-Dog-Grooming-Boarding-1095099590566216/
Forms of payment accepted: Cash, check, and major credit cards
Yuka Thompson owns and operates her grooming and boarding business out of her beautiful home in Hawi.  Even on a hot summer day, the ocean breeze through her home at 1,200 foot elevation was cool and very peaceful, perfect for even a thick-coat dog.  Small dogs less than 25 pounds stay inside the main house.  Her extremely clean and neat home provides a wonderful environment to keep your dog(s) happy and safe.  Play and potty time is always supervised by Yuka in a fully-fenced grassy yard.  Dog beds are provided in her office area immediately adjoining her bedroom, and this is a cage-free facility unless you have a prefer to have your dog crated.  Boarders enjoy 50% off "Bath and Tidy" grooming service and 25% off full grooming (includes haircut) during their stay.  If I had small dogs, I would bring them here, knowing that my beloved pets were safe and lovingly cared for.  Please see our GROOMING section for more information and a review of her grooming services.  $36 + tax per dog/per night; discount for longer term and multiple dogs.
September 2016 UPDATE: GREAT NEWS!  Yuka and her husband, Mitch, recently completed renovating their facility to accommodate big dogs (while keeping a separate part of their home for small dogs).  They only accept a small number of dogs at a time to ensure that every dog gets the one-on-one attention they need.  They provided us with a tour on September 6, 2016, and we are impressed!  The large dog facility is attached to their home and consists of a large room (the size of an oversized 3-car garage) with a cool, concrete floor and large windows that they open for cool breezes and can close for chilly nights.  There's an opening for the dogs to freely roam to and from the large fenced-in grassy area, and there's an additional separately fenced-in 1-acre of hilly grassy area where Yuka and/or Mitch take the dogs to run, play with a ball, frisbee, or whatever your dog enjoys playing with.  Neighboring sheep (on the other side of the fence) seem to watch in amusement as we walked around to view this beautiful grassy pasture.  Back inside the room, there's a large couch and several brand new dog beds and separate crates for any dogs who prefer to eat or sleep alone.  Mitch tells me he frequently sleeps on that couch when they have dog guests to make it feel even more like home for their furry canine customers.  If interested, call Yuka to arrange an interview and visit with your dog to ensure a communal atmosphere where dogs can socialize and pass their time relaxing and playing.  They also offer pick-up and drop-off service, great for those who are taking an early flight out and cannot drop off their dog that early.  Large dogs (over 25 lbs) are $45 + tax per dog per night; discounts for longer term and multiple dogs. Small dogs (under 25 lbs) are $36 + tax per dog per night; discounts for longer term and multiple dogs.
---
Waikoloa Pet Care
619-318-7731
waikoloapetcare@gmail.com
Shelley is a full-time pet sitter and dog walker who lives in Waikoloa Village and serves the Village as well as Kohala Coast, Waimea, and Kailua-Kona.  She previously lived in San Diego, CA where she began pet sitting in 2006.  Her services include in-home visits, overnight stays (in your home), dog walking, and quick drop-ins for many types of pets, includes dogs, cats/kittens, birds, fish, and even chickens!
---
A Bark Above – Grooming & Boarding (near the location where Happy Tails -which closed 12/2015- was located)
Located by Aina Hou Animal Hospital at 66-1520 Pu'u Huluhulu Road in Kamuela.
Call Patricia to schedule boarding at (808) 315-0260
Forms of payment: Cash only (but will be taking credit cards, too, soon).
(Please see our DOG GROOMERS webpage for more information on their dog grooming.)
$30/dog per day (introductory offer)
discounts for multiple dogs and/or long-term boarding
"free range" – Dogs can wander freely through the facility and outside into the shaded fenced-in yard (photos below)
2 walks per day
free bath if stay is 2 weeks or longer
takes dogs of all sizes
no aggressive dogs
---
Peace of Mind Pet & Home Care
Serving Hilo and surrounding areas
415-944-7485
www.PetAndHomeSit.com
I have met Marlene Norton, owner and sole employee of Peace of Mind, but never used her services.  Paulla Speegle, owner of Aloha Pawz just loves Marlene and utilizes her services whenever she goes off-island.
---
Below are MORE Dog Boarding or Dog Training facilities that are available on Hawaii Island, but who I am not familiar with at this time.
Alpha K-9 Kennels
29-329 Chin Chuck Rd
Hakalau, HI  96710
(808) 963-6000
www.vomyounghaus.com
---
Bar-King Dog Kennel & Quarantine Services
Orchid Land Ests
Keaau, HI
(808) 966-8733
www.barkingdogkennel.net
Although I am unfamiliar with Bar-King, I have been told by numerous people that Bar-King is an excellent quarantine facility and much better option than Oahu..and also a great kennel.
---
NEW (April 2017)
Big Island Dog Boarding
92-1868 Aloha Blvd.
Naalehu, HI
(808) 495-3586
greenflashgardens@gmail.com
Alex and Kaipolani own and operate Big Island Dog Boarding in Naalehu (Hawaiian Ocean View).  They board up to a maximum of 4 dogs at a time in order to provide plenty of love and attention to each dog they are caring for. They accept intact dogs and specialize in big, loud, and aggressive breeds.  $22/night, 4 night minimum; $15/day for daycare only.  Discounts for multiple dogs sharing a kennel and stays over 30 days.  They can accommodate any special needs, dietary or other, and even built a giant kennel special for their XXL guests.
Hilo Kennels & DayCamp
120 Hoaka Rd
Hilo, HI  96720
(808) 959-8360
hilokennels.com
---
Kamuela Pet Care (for dogs 25 lbs. and under)
Kamuela, HI  96743
(808) 895-0559
http://www.kamuelapetcare.com/
*$35 per 24 hour stay; Cage-free petcare in a private home; bonded and insured through Pet Sitters Associates since 2009
---
NEW (August 2017)
Kona Doggie Daycare & Spa
Kaahumanu Plaza
74-5467 Kaiwi St. Unit 1-4
Kailua-Kona, HI  96740
(808) 313-2716
https://www.facebook.com/KonaDoggieDaycare/
Monday – Saturday 7:00 am – 6:00 pm
Sunday 9:00 am – 6:00 pm
Tuesday 5:30 pm – Pint-Sized play
Wednesday 5:30 pm – Wolf Pack
A complete pet center conveniently located in Kaahumanu Plaza at the top of Kaiwi Street.  Services will include daycare, boarding, grooming, and training. Their facility will be the first in West Hawaii to offer air conditioned comfort for its guests as well as senior and military discounts.
---
Pampered Pooch & Cat Lounge & Aviary (Mountain View)
Opened September 2016
Easy to find on the pavement right off highway 11 near Akatsuka Orchid Gardens.
808-315-0973
Brand new indoor facilities offering affordable daycare for your beloved pets.  Basic Doggie kennels start @ $20/day. Walks, treats, grooming and washing also available.  The facility will have 20 huge 6 x 16 kennels, and 4 Mega-Huge 8 x 16 indoor kennels.  Opening at partial capacity in the beginning, meaning about 12 kennels should be available for occupancy by early September.  All the roofing and cement work is done, half way with framing, and have epoxy to apply to the floors for easy cleanup, plenty of ventilation, drainage, and is all double-walled 5/8 t1-11 construction, so its quite sound-absorbing and much easier on pets' ears as well as being comfortable and protected.  They are also building a huge cat lounge and playground complete with cat trees and segregation cages. They have two cats of their own.  Their pooch "Rocky" frisbee dog extraordinaire will be around to greet you!  They are also building a mid-sized Aviary also for birds, your cage or theirs. Other pets considered, just give them a call.
---
Shear Magic
711 Kanoelehua Avenue
Hilo, HI 96720
(808) 935-5630
shearmagicpetsalon.com/daycare-boarding/
---
Su Lin Kennels
1342 Kilauea Ave
Hilo, HI
(808) 934-0881
---
Super Care Kennels
P.O. Box 54
Naalehu, HI
(808) 939-7003
www.supercarekennels.com
---
Sunnyside Pet Sitters (**NO LONGER IN BUSINESS**)
Waikoloa and Kailua-Kona, HI
(808) 990-5099
sunnysidepetsitters.com
---
Wags & Whiskers Pet & Homesitting Services (**NO LONGER IN BUSINESS**)
(808)-896-8356
http://www.wagsandwhiskershawaii.com/
stacey.burge@outlook.com