Where to Buy Dog Food (including Raw Diet)
If you are visiting this page, you most likely feed your dog a top-quality dog food, homemade meals, or raw meaty bones.  You've come to the right place!  Here's a list of stores that carry what you are looking for plus how to read dog food ingredient labels.
Raw Dog Hawaii – For sale at Aloha Pawz (Hilo) and Kapa'au Veterinary Center (Kapa'au).  They are an online raw dog food distributor on Oahu who will also ship FedEx (in chilled Styrofoam containers) to Big Island.  Their food is a complete and balanced, locally-raised and processed organic meats like grassfed beef, venison (Maui), chicken, and Ahi.  In September 2016, we tried their Organic Chicken/Grassfed Beef patties, Wild Hawaiian Venison Nuggets, and several varieties of their treats.  Our dogs LOVED it.  We already feed home-cooked meals, but Raw Dog Hawaii's complete and balanced meals makes it easy and quick, and I feel confident knowing that my dogs are eating locally-raised, organic meats.  They recently started carrying CannaCompanion capsules, a blend of cannabis sativa strains, frequently referred to as Hemp, designed to enhance the medical benefits of the cannabis plant while negating the "high-inducing" capacity of THC.  **TIP: Buy $125 or more (before taxes) online and get FREE shipping!
Waimea Butcher Shop (NEW! Opened  February 4, 2017)
64-1032 Mamalahoa Hwy., Suite 101
Open Monday through Saturday, 10:00 am – 6:00 pm
Meats come from animals raised in Hawaii with no antibiotics, ever, and no added hormones. WBS only partners with farmers and ranchers who follow strict standards for animal welfare.  Their goal is to bring our community great-tasting beef, pork, lamb, and poultry that is environmentally and agriculturally sustainable.  They currently sell "Dog Treats" (beef jerky) and bone dust (perfect for those who make homecooked meals for their pets).  They will be selling bones specifically for pets, and you can also request any part of the animal for custom order.
Honokaa Country Market (Replaced JJ's Country Market in January 2017 – new name and ownership)
45-3745 Mamane Street (on the mauka side as you head to Waipio Valley)
808-775-7744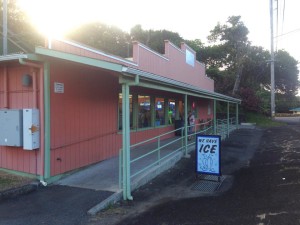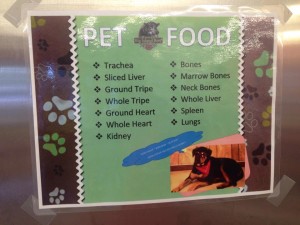 We have found that Honokaa Country Market carries the most inexpensive Big Island grassfed beef on the east side of Hawaii Island.  They carry grassfed beef (ground, beef neck, marrow, bone dust (great source of calcium for those who feed cooked meals to their dogs!), green tripe, liver), ground turkey breast, beef tongue, and steaks of every sort.  Current price of lean ground grassfeed beef is $4.29/lb.
**Call 2 days ahead for bulk items or to reserve a specialty meat item.**
Open Tuesday through Thursday, 9:00 am – 5:00 pm; Friday, 9:00 am – 7:00 pm; Saturday, 9:00 am – 12:00 pm; closed Monday and Sunday.  
Kapa'au Veterinary Center
Although limited in supply, they typically have in stock 5 pound bags of Big Island grassfed beef and heart, 5 pound rolls of ground turkey breast, turkey necks, and complete raw meals by Raw Dog Hawaii. Also carry The Honest Kitchen, Evanger's grain-free canned dog/cat food (pheasant, duck, bison, beef), and Nature's Logic dry kibble.
Aloha Pawz Dog & Cat Boutique (Hilo) (The store itself is dog-friendly, too!)
697 Manono St., Unit 105
Hilo, HI 96720
Carries Merrick, Earthborn, The Honest Kitchen, complete raw meals by Raw Dog Hawaii, and many locally-made healthy treats.
Monday through Saturday from 10:00 am to 5:00 pm; closed on Sundays.
Petco (Kailua-Kona)
Kona Raw Pet Food Co-op (Holualoa)
For a one-time membership fee of $5.00, members can buy the amounts of rmb (Raw Meaty Bones) their pets need for a week or a month at wholesale prices (the BEST prices on island).  Volunteer and receive a discount on your order.  They also carry Wysong and The Honest Kitchen dog food brands.
Contact Sandra Scarr: 808-322-9445 (office); 808-987-5005 (cell)
78-6915 Palekana Road, Holualoa, HI 96725
Waimea Town Farmers Market at Parker Ranch (Dog-friendly farmers market!!)
65-1224 Lindsey Road
Waimea, HI  96743
Saturdays from 7:30 am – 12:00 noon
Island Fresh Poultry sells raw chicken necks, feet, liver, gizzards, heart, eggs, and whole cleaned chickens every Saturday.
Del's Feed and Farm Supply (Hilo) (The store itself is dog-friendly, too!)
199 Kalanikoa Street
Hilo, HI  96720
Phone: 808-935-6378
Open Monday through Saturday: 8:00 am – 6:00 pm; Sunday from 10:00 am – 4:00 pm
Carries 4Health and a variety of grain-free dog food brands.
Kona Commons
74-5446 Makala Boulevard
Kailua Kona, HI 96740
(808) 334-1012
Store Hours: Monday – Friday 9:00 am – 9:00 pm; Saturday 9:00 am – 9:00 pm; Sunday 10:00 am – 7:00 pm
**Coming soon to Hilo (111 E. Puainako Street)!**
Protect Your Pooch, Read Pet Food Labels
Purchasing food for your beloved pooch is one of the major expenses you have within your household budget. But, have you ever wondered what is actually inside the pet food that you toss in your grocery cart? From wet to dry food, there are many different types of grub that your animals eat. They might not know what they are consuming, but it is your responsibility to read labels and know exactly what is put inside the food products that you serve.
With increasingly busy schedules, there is hardly enough time to run errands or take your time shopping for pet food. Yet, the sad news is that there might be ingredients in store-bought pet food that are actually harmful to Fido. From toxic food dyes to preservatives, you might be unknowingly feeding your pets poison which can cause negative side effects, symptoms and diseases.
For more information on harmful pet food ingredients, take a look at this infographic so you know what to look out for the next time you go grocery shopping.