Dog Training & Behavior Modification
Paws University
73-4259 A Hawaii Belt Road
Kailua-Kona, HI
(808) 325-6436
www.pawsuniversity.com
Paws University is a fantastic, innovative dog and cat boarding and dog daycare and training facility that also offers agility courses and grooming.  I have taken Basic Obedience Training with one of the owners, Allen Daniels, who is outstanding.  Allen (who is a AKC Canine Good Citizen Evaluator and a member of Association of Professional Dog Trainers) used to be a dolphin trainer at Dolphin Quest INC. for 10 years and opened Paws immediately after leaving Dolphin Quest.  During their nearly 20 years of existence, they benefited the community in many ways by way of opening the FIRST Daycare facility in the State as well as being the first here to introduce the methods of Operant Conditioning (Positive Reinforcement Training) in a formal group setting.
Paws offers a variety of classes and activities to not just train basic obedience, but to build lasting relationships between owners and their pets.  Some of their offerings include: Puppy Kindergarten, Paws-Abilities (Life Skills for Dogs), Yappy Hour, and Agility Training.  To ensure their safety, each animal is carefully screened prior to playing and socializing while at Paws for the day, overnight, or during extended visits.
In addition to this, Paws has for many years supported Hawaii Island Humane Society by assisting their Vet with training issues as well as supporting the local homeless community in donating food and toys for their pets on a weekly basis.
He's passionate about his business and is happy to meet 1-on-1 with dog owners to tackle any questions you may have about your dog.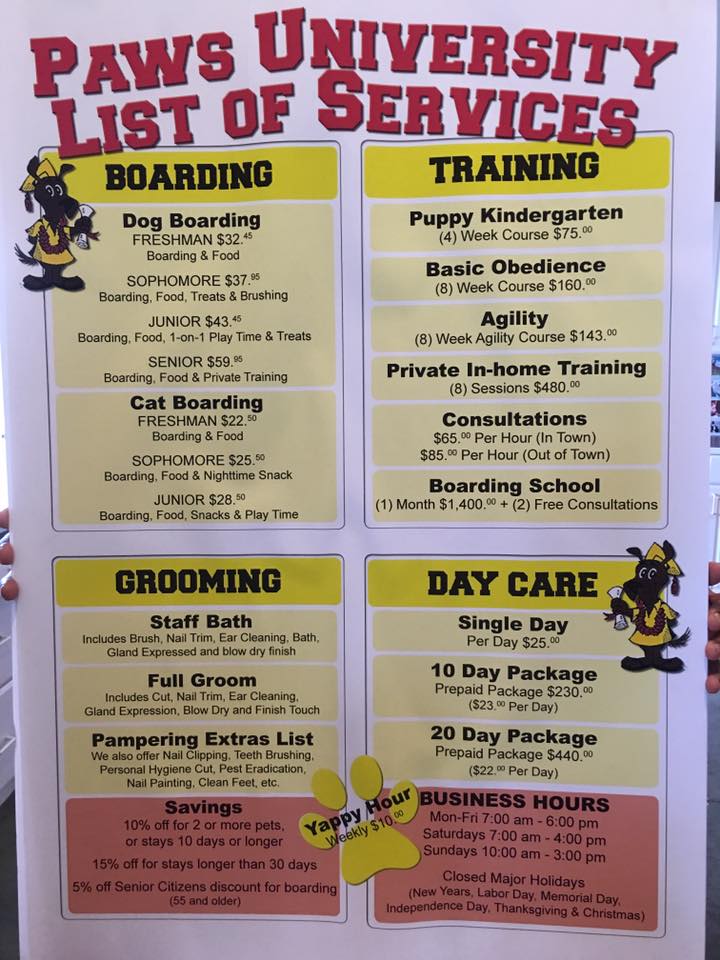 ---
Animal Biz Hawaii
808-315-1326
animalbizhi@yahoo.com
animalbizhawaii.com
Dawn has been training animals professionally for over 25 years. She settled in Hawaii in 2013 where she now offers private lessons and group classes. Dawn is a Certified Dog Behavior Consultant through the International Association of Animal Behavior Consultants. She also went to college for exotic animal training and management, working with a variety of species from baboons to wolves. Dawn now focuses on behavior modification, pet manners, dog and child safety, and any specific training goals you may have. Lessons are mainly on the east side, but phone consults or video chat lessons are available. Dawn is an active member of several professional organizations that are dedicated to continuing education and holding trainers accountable for training with modern, science-backed positive training. Her experiences have earned her and her dogs features in multiple articles and publications, and she has appeared on local and national television, including Animal Planet and David Letterman. She has special expertise in trick training as well, and her dogs have appeared in several commercials, movies, and print ads. As well as her manners and behavior modification, she is also available to hold trick training clinics and classes. Check out her website for upcoming classes or to schedule private lessons or consultations.
More on Dawn:
Graduate of Moorpark College Exotic Animal Training and Management Program
Member of International Association of Animal Behavior Consultants
Member of Pet Professional Guild
Member of Association of Professional Dog Trainers (APDT)
Current behavior consultant and trainer for Bar King Dog Kennel and Aloha Ilio Rescue
Professional animal trainer and wrangler for movie work and commercials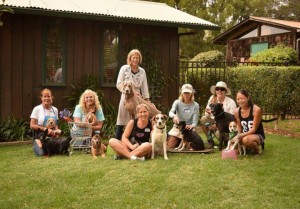 ---
Focused K9's Hawaii
Pepeekeo, HI (but travels island-wide)
(808) 557-1385
http://www.focusedk9shawaii.com
Chance Bateman owns and operates (by himself) Focused K9's Hawaii and travels to YOU and your dogs anywhere on island.  For every program and curriculum, they bring a demo dog(s) to show by example; nothing is taught without a demo dog.  During the Summer 2014 we started working with Chance to help us with Pepper's prey drive towards other animals (mostly our chickens and ducks, but it carries over to others).  He uses positive reinforcement rather than punishment or shock collar to help produce a happy, balanced dog.  Chance is a graduate of Triple Crown Academy in Texas and has over 15 years of canine handling and breeding.  I really like his style of training and how he spends a few hours with us each session once per week.  He shows you how to "read" your dog and their body language.  After evaluating and working with Pepper, he feels confident that we will only need him for 4 sessions, but it will take us working with Pepper continuously up to 4 months to see a "fix."  Chance also teaches Basic to Advance Obedience, Recalls, Clicker, Behavior Modification. Canine Good Citizen, S.T.A.R., puppy socialization and imprinting, agility, service, therapy, SAR, and scent detection.  Give him a call!  He is super nice and has a lot of knowledge to share.
More on Chance:
Certified Professional Canine Trainer and Behavior Specialist
Member of APDT (Association of Pet Dog Trainers)
AKC Evaluator
Acknowledged by Hawaii Island Humane Society, County of Hawaii, UH Hilo, Aina Hou Animal Hospital, Veterinary Associated, Inc., Happy Tails Dog Grooming, Doggie Dude Ranch, Bark King Dog Kennels, KARES (Kohala Animal Rescue), and Hamakua Realty.
Other dog training that we are not familiar with, but that comes recommended by Lava Dogs Hawaii fans:
Hilo Obedience Training club. Classes are Saturday morning from 9:00am – 12:00pm, field of St. Joseph's. Puppy class, CGC class and testing, higher level obedience classes, intro to agility, Nosework. Very affordable. Email: hilootc@gmail.com  Facebook page: https://www.facebook.com/HiloObedienceTrainingClub/
Alpha K-9 Training. Ted Young. Puppy class, basic, AKC obedience, Schutzhund, private lessons. One of our fans says, "Best trainer I know of, especially to prepare for competition."  Located in Hilo.  Email: ted@younghaus.com. 808-987-6764.  Website: http://www.younghaus.com/
Far Flung Agility. Agility classes on most days of the week. Papaikou. Website: http://far-flungagility.com/home 808-756-0519. Also has Karen Lukela who teaches at another facility in Hawaiian Acres.  The latest addition to the Far-Flung Dogs Training Facility is a strength training pool and gym for canine friends.
Far Flung Agility also has an active agility club: Orchid Isle Dog Agility, which sponsors Trials, Fun Matches and Seminars throughout the year. Please visit the club's website: http://www.oidahawaii.org/
Kukini Dog Agility. They offer agility classes for all levels from Foundation through advanced competition skills.  Board of Directors President: Angelic Ebbers can be reached by email: dogagility@hawaii.rr.com or phone: 808-960-1390.  Located in Hawaiian Acres. Sunday morning classes. Website: http://www.kukinidogagility.com/Kukini/Welcome.html
Shear Magic. Karen Furtado is the owner of Shear Magic Pet Salon. She is a member of ADPT and is certified by both the ABTA and the AKC. She is an AKC-Certified Trainer & Evaluator and is a Certified Master Groomer, as well.  Obedience classes in Hilo and at the Humane Society in Keaau.  Website: http://shearmagicpetsalon.com/training/ Email: ShearMagicHilo@gmail.com or phone: 808-935-5630
Petco.  Kailua-Kona and coming soon…Hilo!
Since Nov. 16, 2015, Dr. Carl Oguss of the East Hawaii Dog Psychology Center started teaching a second free class (in addition to his "Social Sunday" classes) on weekends in Hilo at Liliuokalani Park.  The new class is scheduled Saturdays at a time to be determined by those who register, and the "Social Sunday" class for everyone will continue to meet each week on Sunday from 2-4 p.m. There is no cost for either class, but paid individual instruction is available, if desired.  "Service Saturdays" will help you prepare your dog to become a certified service animal, able to assist you anywhere you go, and allowed to fly for free at your side. Oguss also will train therapy dogs to do visitations and bring joy to people in hospice, adult day care centers, veterans centers, hospitals, schools, etc.  "Social Sundays" focus on improving your dog's social skills, giving them a fun experience with other dogs and solving any behavioral problems your dog might have. A group swim sometimes is included at the end of class.  For information, contact Oguss via email at easthawaiidogpsychologycenter@yahoo.com or call 808-933-9763.