Honua'ula Forest Reserve Makaula O'oma Tract
Trail Names: Maka'ula 'O'oma Tract, Makahi Trail. (Nearby is Hao Street Trail…see below for more information)
Directions: The trail is accessed from the end of Makahi Street, which is near the top of Kaloko Drive (mauka of Mamalahoa Highway/Hawaii Belt Road/Hwy 190). Drive to where the road just ends. There is a trail with a small sign to the right (See picture of car, trail to right).
January 21, 2015 Update: It didn't name the trail (the wooden sign shown above was damaged and removed in 2014), but it did say Forest Reserve (See picture of white sign). There was also a sign which warned about cars being broken into, and suggested parking on Hao Street, so you can double back and park there where the "Hao Street Trail" is.  More details on Hao Street Trail are down below.
Center: 19.7258°N 155.9611°W
Elevation at center: 2,602 feet (793 meters)
The Honuaula Forest Reserve Makaula O'oma Tract is a beautiful upland rainforest on Hualalai Mountain in Kaloko.  The region is accessed via Kaloko Drive.
The trail is about 3 miles total with an elevation change of about 750 '.  The surface is relatively good with some loose rocks and tree roots.  The trail starts at Makahi Street and goes through Honuaula Forest Reserve and returns via "Jurassic Park Trail" to Makahi Street.  This forest area does look much like something from the Jurassic times with its various ferns and other native vegetation.   The occasional forest clouds rolling through, and the singing birds make this a very special place.  **JANUARY 21, 2015 UPDATE: The trail isn't very well maintained, but there were pink ribbons to indicate you were on the path. We had fun leaping over fallen trees and carefully hiking down steep parts of the trail.**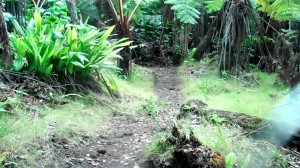 Restoration work has been done in this forest by Tree Hawaii and volunteers to plant native trees and remove invasive species.
Hao Street Trail (a given name…There's no sign that designates this trail as "Hao Street Trail.")
The sign warning of break-ins at the above trail suggested parking on Hao Street – so we doubled back and parked there, which is parking for the nearby "Hao Street Trail."  That trail isn't as much fun.  It was very wide – like a street. Many people regularly walk their dogs here.  The entrance could be missed, but there were other cars there. The entrance was narrow and didn't have a sign. However, after a few minutes of walking through the narrow trail, there was a sign – and that is where the road becomes ho-hum. (See picture below of Honuaula Forest Reserve sign).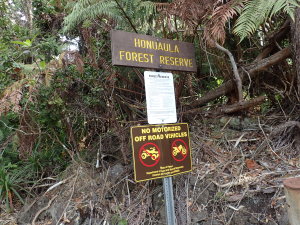 The weather on the mountain is somewhat unpredictable, so be prepared for rain although sunny weather is possible as well.  It is advisable to wear closed-toe shoes, and bring at least two liters of water, water bowl, poop bags, snacks, and wear sunscreen.