Lava Lava Beach Club – Anaeho'omalu Bay, Hawaii
Cost: 4 cottages that range from $450 to $500/night
Website: http://lavalavabeachclub.com/stay-play/
Contact: 808-769-LAVA (5282) (Before booking online, please call management for prior approval of your dog)
August 2, 2013 Review: An air-conditioned (YES! MAHALO!), tiled 576 square foot beachfront cottage where your dog(s) will receive dog treats, a fluffy dog bed pillow, and a coconut shell water bowl (for the smaller dogs).  Hale Moana is the 2nd cottage over from the restaurant and is the one available pet-friendly unit since it is the only all-tile floor cottage.  It is also ADA-compliant, which we found to our benefit since it also included a protective sturdy railing along the edge of the lanai where we could easily secure the dogs' leashes while we were on the lanai enjoying the live music (starts around 5 p.m. and is the perfect volume for us to listen while being able to have our own conversation).  By the way, they deliver complimentary pupus (delicious Ahi Poke on a crisp rice shell during our stay) and Mai Tais to your doorstep around 5:30 pm.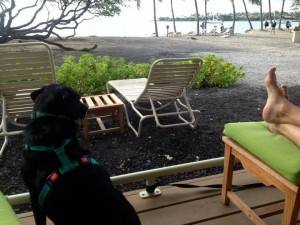 After enjoying our Pau Hana snack and killer Mai Tais, we took the boys down the south side of the beach (Dogs are only permitted on the south side of the restaurant and cottages) to the soft beach area where there is some sort of abandoned rusted engine.  The beach is wide, soft sand, and the dogs love to crash into the waves and then "tuck and run" back and forth along the beach.  We returned to the cottage through the side door where the outdoor shower is located so that we could rinse and shower off ourselves and the dogs.
Rinse off the "dogs"…and the dogs! BOL
Although well-behaved dogs are permitted in their sand bar area of the restaurant, we opted to leave the beach-weary Kimo and Pepper inside the cottage while we ate dinner in the restaurant (Upon check-in, they can book a reservation for you, or either call ahead of time).  I was worried about the noise from the restaurant and the dogs going bonkers, but once you close the sliding glass door, it was astonishingly completely quiet.
Lava Lava Beach Club owner, Scott Dodd, is the Past President of Hawaii Island Humane Society, and we are lucky to have such luxurious beachfront accommodations for us and our furry ohana members!  Mahalo, Scott!  We will most certainly be back!