The Poolhouse (Waikoloa Village)
Accommodations: 1-bedroom 1-story studio unit (accommodates 2 people) with full kitchen and bathroom with walk-in shower (and outdoor shower) in Waikoloa Village (in walking distance of Waikoloa Elementary School) and a large POOL for you and your dogs' use!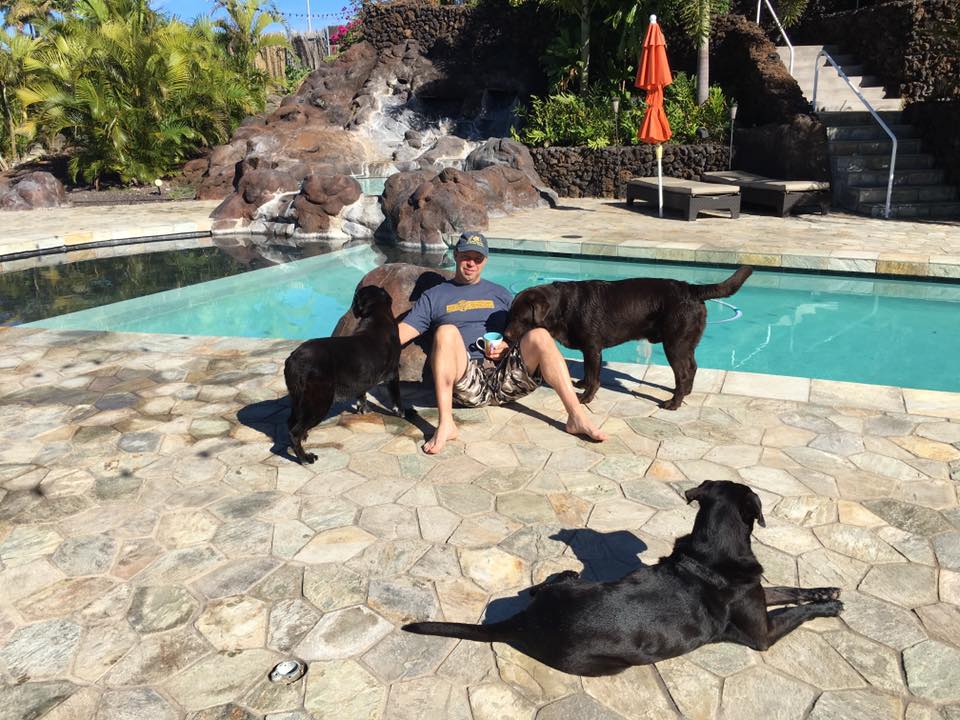 Cost: $155 to $165/night (2 night minimum stay) + $75 cleaning fee.
Website: https://www.airbnb.com/rooms/1714262
Contact: Kelsey through the above Air BnB link.
Fence:  YES…completely fenced-in!  Since there is a pool, County code requires a fence with latching gate.  From the parking area, you will walk through a gate and walk down two flights of outdoors patio stairs to the pool deck where The Poolhouse is located.  NOTE: If you have an elderly dog who cannot navigate stairs, you will have to carry him/her down the stairs.  Once you reach the pool deck at the bottom of the stairs, then it will be easy for any dog to move around.
September 2 – 4, 2016 Review: The homeowner, Kelsey, lives on the property in a separate house with her very friendly, social yellow Labrador Retriever, Keona.  Kelsey is at her regular full-time job most of the day.  The location is private and quiet, and Kelsey respects your privacy but is available if need be.  Mango trees abound and fruit prolifically in the Spring time.  NOTE: While there are fans and lots of windows throughout the rental unit that can safely/securely remain open, there is no air conditioner. During the hottest part of a summer day, you might not want to stay inside (which you probably wouldn't do anyway since you have this fabulous pool!), but it is something to take this into consideration for thick-coat dogs in the summer time.  I took an early afternoon nap with our three dogs (including Kimo with his very thick coat) and was comfortable and not hot at all.  With the running fans and open windows, it was quite pleasant.  The cool tile floors help, too!
What makes it dog-friendly: Not only are dogs allowed to swim in the solar heated, salt water (rather than chlorinated) pool, but it has a walk-in entry on both ends of the pool PLUS a ledge along one side of the pool.  The walk-in shallow areas are perfect for smaller and older dogs, or if you're trying to "test the waters" with your dog who may or may not like water (Please don't ever throw a dog into the water!  Mahalo!).  Our black dog, Pepper, does NOT like water, but frequently stepped down into the shallow area to stand there and be near us.  There is a nice, large lawn area below the cottage that can be accessed down a few stairs or by a gravel slope.  I had to carry our senior Lab, Margie, down to the lawn each time, but most dogs (and humans) will not have an issue accessing it.  All three of our dogs got along GREAT with Keona who will back down (submit) to any overly-eager dog.  Again, Kelsey is a very considerate, gracious host and will only let out Keona if you ask.
What We Love: Full kitchen with stove, full-size refrigerator, coffee maker, plenty of shatterproof cups to take out to the poolside, large step-in shower, desktop computer with Wi-Fi password (how nice!), plenty of pool towels, comfortable bed (my back is VERY particular!), and a great, "working" BBQ gas grill (We have encountered numerous vacation rentals with non-functional grills!), gas-heated grotto (jacuzzi jets do not work, but the heated water felt good) with waterfall, the gazebo next to the grill where we had our BBQ dinner and watched the rain (which is rare in Waikoloa).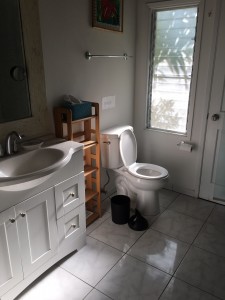 The Doggie Rules (which we consider very fair):