Pu'u Wa'awa'a – Halapepe and Ohia/Cone Trails (North Kona)
PLEASE NOTE: Although the Pu'u Wa'awa'a State Forest Reserve website states that leashed dogs are only allowed on the Halapepe Trail at Pu'u Wa'awa'a, I confirmed on 12/20/17 that their website is outdated and that leashed dogs can be taken anywhere within the state forest reserve where there is public access (i.e. where there aren't locked gates, behind signs saying no entry, etc.).  Please keep your dog(s) on leash at all times, so that we may continue using these trails!  Mahalo!
Pu'u Wa'awa'a Trails website: http://www.puuwaawaa.org/blank.html
Directions: Traveling from either Kailua-Kona or Waimea on Mamalahoa Highway (Hwy. 190), find the mauka turn for the trailhead between the 21 and 22 mile markers (closer to the 21 mile marker). It is just south of the hill that goes up to Puu Lani Ranch and Big Island Country Club.  Drive along a white pipe fence until you reach a metal gate. Go through the gate and close it behind you (this area is still used for grazing stock) although our visit on 12/31/17, the gate was AUTOMATIC and opened for us and then closed behind us…Please double-check that it closes behind you.  The gate is unlocked daily from 6am – 6pm.
**Note:  To access the Ohia or Cone trails, take the LEFT fork in the gravel/asphalt path (Vulcanite Road) to the hunter check-in station (where you might find some trail brochures, but it is best to print the map at home and bring it with you).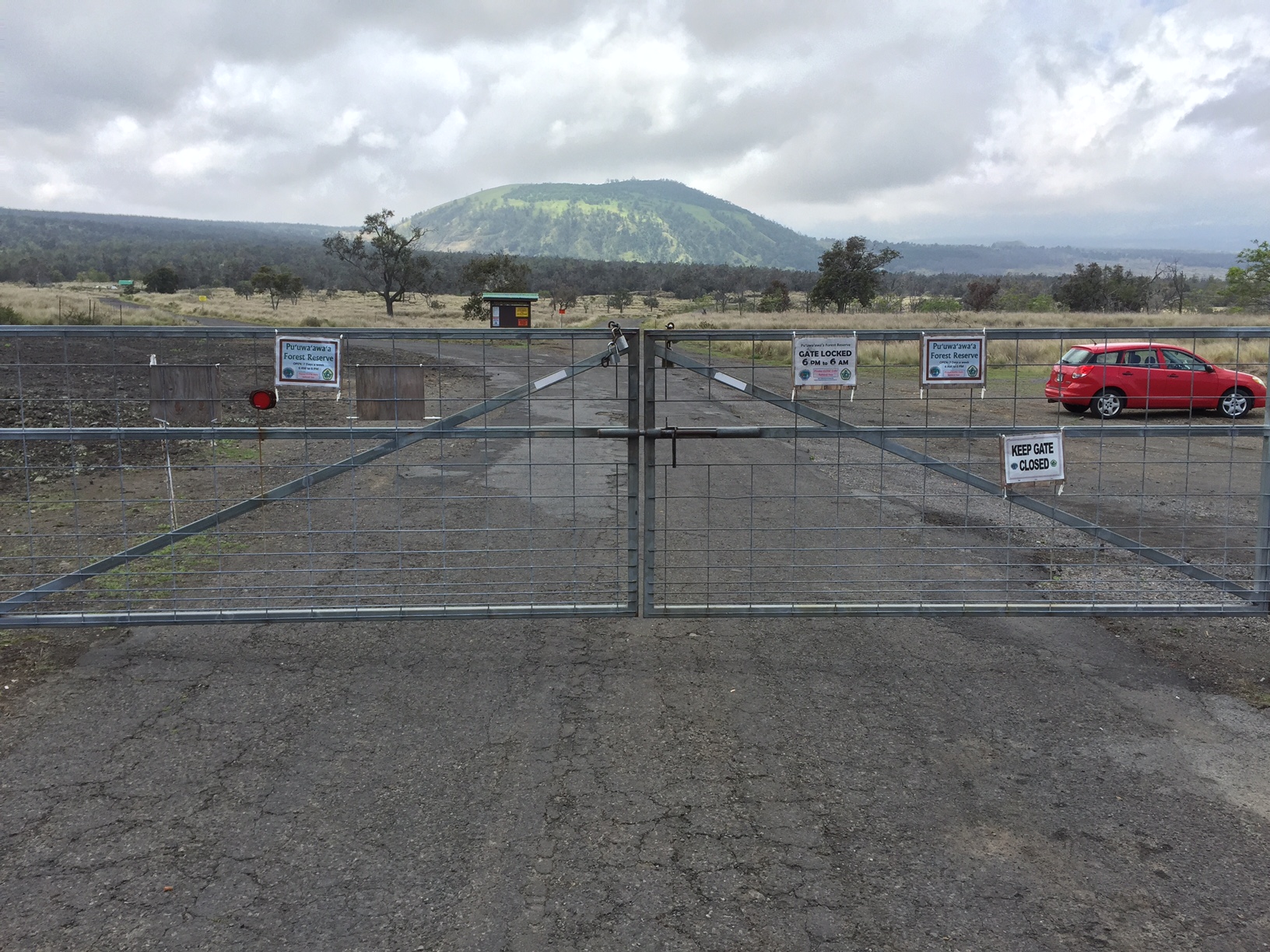 Halapepe Trail length: 1.1 mile loop
Ohia/Cone Trail length: 8.1 mile loop (but can be customized to be as long or as short as you'd like)
Caution: There are various types of livestock in the area, such as cattle, goats, and sheep.  As stated in the Forest Reserve Rules, dogs must remain on leash at all times.  Cattle seem to ALWAYS be present.  If you need cow manure for fertilizing your garden, consider bringing buckets!  Manure is everywhere!  LOL
12/20/17 email response from Pu'u Wa'awa'a staff:
Thank you for reaching out!  The website is out of date (http://www.puuwaawaa.org), and we have been searching for funding and staff to update it.  The area that includes the halapepe and ohia/cone trails are now within the Pu'u Wa'awa'a State Forest Reserve (when the trails were first established the land was unencumbered state lands with no particular designation).  As such the rules for Pu'u Wa'awa'a are now within the state Forest Reserve Administrative Rules – see http://dlnr.hawaii.gov/dofaw/files/2013/09/HARChapter13-104.pdf
And section §13-104-12, copied and pasted below as well – dogs are allowed within the Forest Reserve as long as the rules are followed below (e.g. on a leash).  Therefore they are not limited to the Halapepe Trail, but can be taken anywhere within the state forest reserve where there is public access (i.e. where there aren't locked gates, behind signs saying no entry, etc.).  The Ohia/Cone trail all the way up to the top of the Pu'u Wa'awa'a cinder cone is open to dogs as long as they are on leash.
Let me know if you have further questions,
Mahalo!
Elliott
§13-104-12 Animals. (a) Dogs, cats, and other animals are prohibited within a forest reserve unless crated, caged, or on a leash, at all times except for hunting dogs when permitted by chapters 122 and 123, Administrative Rules. (b) All dogs used for hunting shall be crated, caged, or leashed or otherwise under restrictive control during transportation while in transit at all times, to and from hunting areas within the forest reserve. (c) Dogs, cats, or other domestic animals, observed by an authorized representative of the board to be running at large or in the act of killing, injuring, or molesting humans, wildlife, or property, may be disposed of in the interest of public safety and the protection of the forest reserve. [Eff 9/28/81; am and comp 10/15/93] (Auth: HRS §183-2) (Imp: HRS §183-2)