Sweet Cane Cafe – Hilo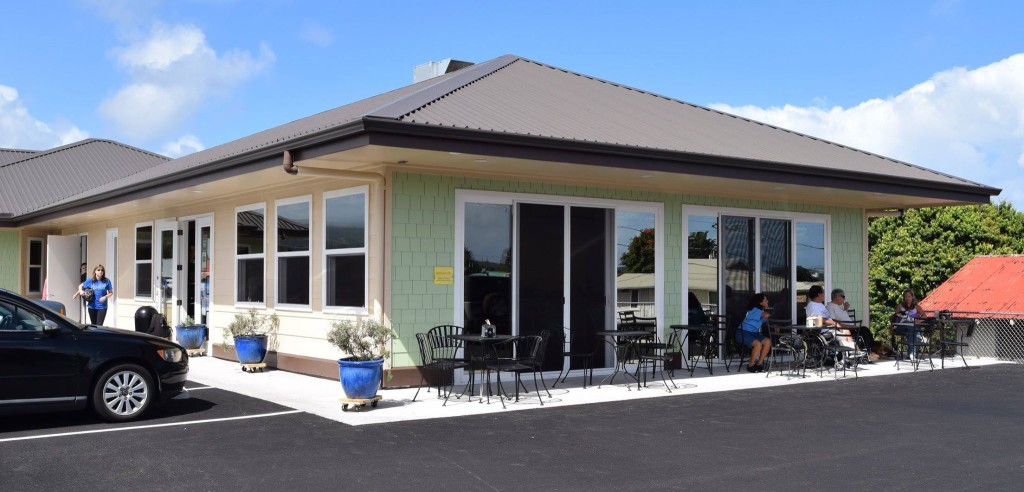 Where: 48 Kamana Street, Hilo and also at Hilo BayFront (116 Kamehameha Ave, Mon-Sat 10-3:00)
Call: (808) 933-8685
Website: http://kalapanaorganics.com/sweetcanecafe/menu/ and on Facebook
Open Monday through Saturday from 8:00 a.m. – 6:00 p.m.
Lava Dogs fan Karin shared this dog-friendly spot with us (February 2016) and says that the large lanai area is perfect for those who need wheelchair access.  Currently, it is best to eat there in the early morning or late afternoon, as the sun hits the lanai directly in the late morning and lunchtime.  Karin suggested to management for some sort of shade or screening, so we'll see what they come up with.  🙂
Notes from the business: Sweet Cane Cafe is a locally owned, family run business featuring fresh pressed, organic, locally grown Sugar Cane, flavored with tasty ingredients like limes, ginger, hot peppers, coconut milk, and even chocolate! YUM!
We also offer made-to-order smoothies with all organic ingredients. Smoothie flavors change with produce availability, so come in often to sample our ever-changing menu, or create your own flavor!
Soon to come – fresh salads, sandwiches, and wraps.
A few of our delicious Cane Juice flavors include:
ORIGINAL HEALING WATER – pure cane juice
COCOA CREAM – cane juice, coconut milk, cacao nibs
LILIKOI PASSION – cane juice, lilikoi
HOT KISS – cane juice, lemon/lime, ginger, turmeric, cayenne
GINGER TWIST – cane juice, lemon/lime, ginger
Mahalo to Karin for sharing this dog-friendly spot with us!