Ulu La' au – Waimea Nature Park – Kamuela, Hawaii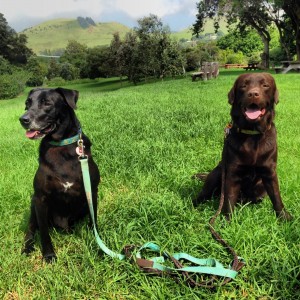 Located behind Canada France Hawaii Telescope administrative offices
Address: 65-1238 Mamalahoa Hwy, Kamuela, HI
Website: http://waimeaoutdoorcircle.org/htm/park.htm
The largest project of the Waimea Outdoor Circle is Ulu La'au, which means "Garden of Trees."
The park is popular with Waimea area dog owners.  It is free to the public and open from 7:00 a.m. to 5:30 p.m. for walking, picnics, nature enjoyment, native plant identification, dog walking, etc. The Park is a 10 acre parcel of State land in the heart of Waimea town, leased by Waimea Outdoor Circle for environmental research, education and restoration. Their goal has been to remove invasive/noxious plant species and replace them with endemic and canoe plants (plants brought to Hawaii by the native Hawaiians in their canoes), along with the endangered and threatened plant species native to Hawaii. They provide long-term maintenance of these plants, and provide an opportunity for environmental education for local school groups and the general public. The Park's location, about 2,600 feet elevation near Waimea's "dry side," is frequently affected by "wet side" weather patterns, making possible the growing of a wide range of species from both the wet and dry uplands.
The Park is a wonderful place to gather, picnic or simply stroll and enjoy, an asset for the community.  The Park is also an access point to the 1.05 mile (one way) trail, Ke Ala Kahawai O Waimea or "Stream Trail," which is another dog-friendly trail that is shaded and follows the Waikoloa stream through Waimea town.  Dogs must be leashed.
**Note from Roz, Co-Chair of Ulu La'au:
"Ulu La'au, Waimea Nature Park, welcomes dogs that are ON LEASHES at ALL times.  Owners must pick up after their dogs.  These rules apply to every part of the park, as children also play in every part of the park!  For your convenience, a Dog Potty stand has been placed at the entrance to the park with dog potty bags and a drop-off bin.  It is a joy to see dogs on leashes and their owners enjoying the park!
Should you see a dog off-leash, please call the police department immediately. It is a Hawaii County law that all dogs must be leashed at all times on public property.  This wonderful park does not want to lose the privilege of walking a dog here.  Mahalo.
There are also picnic tables, an intermittent stream and trails throughout the park to enjoy.  Please take your trash with you, as there are no paid workers in the park.  It has all been created by volunteers and donations!
A nice outing:  Also the historic Camp Tarawa Trail that starts within the park, continues onto University field area, more State land, and you can get off at Old Waiki'i Road right next to Parker Square.
If you would like to come on volunteer work days to Ulu La'au, Waimea Nature Park,  you would be warmly welcomed!   Please check the bulletin in the park for further info.  The park always welcomes more volunteers at their own pace to plant, trim, weed, mow, work in the greenhouse, etc.  Volunteer days are every other Saturday from 9 – 12.
Mahalo,
Roz
Co-Chair Ulu La'au"