WikiFresh (Hilo)
177 Kilauea Avenue
Hilo, HI  96720
(808) 930-WIKI (9454)
Open Monday – Saturday: 10:30 am – 8:00 pm; Sunday: 10:30 am – 7:00 pm
"Yappy Mondays" – Dine with your pet on Monday (all day!) and receive 10% off all regular-priced items!
Website: http://www.gowikifresh.com/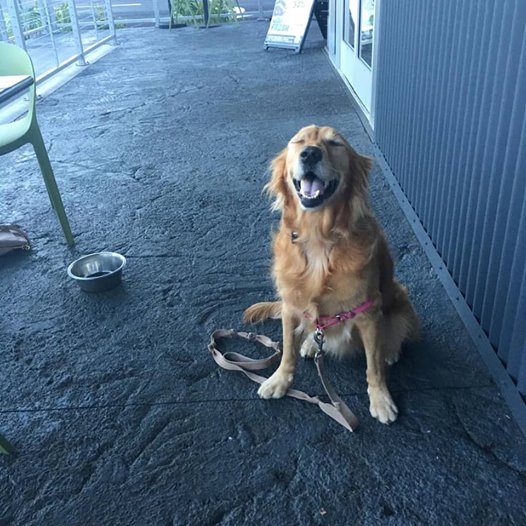 MARCH 27, 2017 Guest Review (with permission) from Kirsten J. – The lanai is very clean and spacious. I was the only person there for a while, and there were no other dogs which participated in Yappy Hour that evening. Many restaurant patrons walked by and came over to pet Kia, and staff was very sweet to her. Several employees offered to fill her water bowl, making me feel very welcome. The only drawback to the lanai is the location — it's right on busy Kilauea Ave. — so it's not like there's a great view and there is some car noise. It's not terrible though and after a little while I stopped noticing. There's also plenty of parking.  The lanai is completely covered, so it'd be no problem sitting outside, even on a rainy night.
WikiFriesh is akin to Chipotle (for comparison for people from the mainland). It's more expensive (a burrito will cost minimum $10 before tax), but they also serve beer, wine and margaritas and the selection, in my opinion, is superior. They have pineapple and mango salsas in addition to regular, quinoa and different flavored chips (which are only $2 per bag — You could totally just snack on chips and drinks for an hour or two after work). It's all light and fresh and quick-service which makes it easy to stop in and have a drink.
The other thing to be mindful of — it's not a bar, they closed promptly at 8 p.m. and they make it clear they don't really want people hanging around much longer than that.
In short, I'm really glad a new business in Hilo is trying something like this. It's tough finding places here that will allow dogs — let alone welcome them. Considering I was the only one with a dog (it was a pretty slow night anyway), I don't know if this is very well known yet. It's also not a location close to other known happy hour bars in Hilo. They also close at 8 p.m. every night (earlier on Sunday) and they don't really want people staying later, so if you're going to go, I'd recommend getting there before 6 p.m. (they also have a nightly happy hour special from 4 to 6 p.m. so not bad to get there a little earlier anyway).