Dog-Friendly Farmers' Markets
Waimea Town Farmers' Market at Parker School behind Paniolo Country Inn restaurant – look for the red w/white trim buildings. Fresh baked breads, produce, fresh-made sausage, flowers and crafts. Their website confirms, "The Market is dog-friendly, so if your best friend gets along well with others, feel free to bring him or her. Please keep your dog on a leash and be prepared to pick up in the event the unspeakable happens to happen. Mahalo for your cooperation."
Saturdays, 8:00 a.m. to 12 Noon
Kamuela Farmers' Market at Pukalani Stables (Grand Opening: Feb. 6, 2016)
67-139 Pukalani Rd., Waimea (at the very end of Pukalani Road behind Ace Hardware…can also drive down )
Saturdays, 7:00 a.m. to 12:00 p.m.
Pepper and I visited Kamuela Farmers Market on the day of their Grand Opening.  Since these vendors were originally from the Waimea Homestead Farmers Market (that has not allowed dogs since 2014), I was curious if they would allow dogs to this location since they ARE allowed at the Waimea Midweek Farmer's Market (see below).  And the answer is YES, they are allowed!  We soon noticed quite a few other dogs…all smaller than us, but it was great to see so many vendors who are fellow dog lovers, including our new friend, Matthias Seelis with Shogun Hawaii, who has three rescued Doberman Pinschers!
Waimea Midweek Farmers' Market at Pukalani Stables
67-139 Pukalani Rd., Waimea (at the very end of Pukalani Road)
Wednesdays, 9:00 a.m. to 3:00 p.m. (PLEASE NOTE: The hours listed on their website (Paniolo Preservation) are not current!!)
Hamakua Harvest Farmers' Market (intersection of Mamane Street and Hwy. 19 in Honokaa) – OPENED Sept. 6, 2015!
Sundays, 9:00 a.m. to 2:00 p.m.
The market hosts local farmers, food vendors, live music entertainment, and educational programs suitable for the whole family. The Market accepts EBT/SNAP benefits.
Ho'oulu Farmers Market – Sheraton Kona Resort at Keauhou Bay  Local produce, fruit, bread, locally-farmed abalone, and estate coffees. Local artists & original, handcrafted products from the Big Island, including tropical print dog and cat collars, leashes, and more from The Poi Puppy.
Wednesdays, 9:00 a.m. to 2:00 p.m.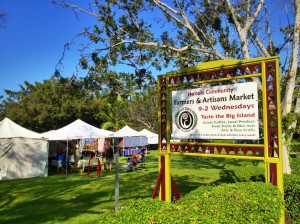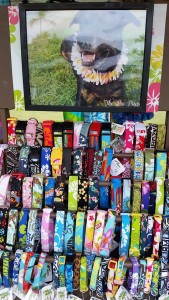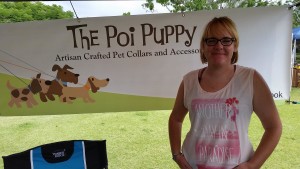 Kona Sunset Farmers' Market at HPM Kona (NEW location as of May 31, 2017)
74-5511 Luhia Street, Kailua-Kona, HI  96740
"Kona Sunset Farmers Market is a community-based farmers market featuring food and agricultural products that are grown, sourced, and made in Hawaii."
Wednesdays, 2:00 p.m. to 6:00 p.m.  Food stands open at 12 noon though.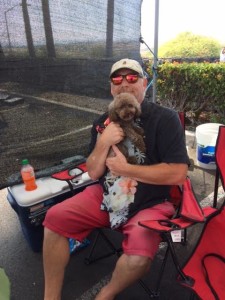 Kokua Kailua Stroll
Stroll Kailua Village along Alii Drive (street is closed to traffic) and enjoy musicians, artists, merchants, and food.  *NOTE: Pavement in the sun is HOT on your dog's feet, and it can be very hot down there.  Please take this into consideration!
2018 Marketplace Dates (Sunday), 1:00 p.m. to 6:00 p.m.
Jan 21
Feb 18
March 18
April 15
May 20
June 10
July 15
August 19
September 16
October 21
November 18
December 16
Hilo Coffee Mill Farmers' Market
17-995 Volcano Highway
Mountain View, Hawaii  96771
Saturdays, 9:00 a.m. to 2:00 p.m.
Holuakoa Farmers' Market (Small farmer's market at Holuakoa Gardens and Cafe in the garden area)
76-5900 Old Government Rd., Holualoa
Saturdays, 9:00 a.m. to 12 Noon
Pure Kona Green Market at Amy B.H. Greenwell Ethnobotanical Garden, 82-6160 Mamalahoa Hwy., Captain Cook, just north of Yano Hall, mauka side of the highway. All local produce, art & hand crafted gifts, coffee, prepared food, and live music. Even massage! "From the Land, By Our Hand." Bring your own bag!
Fridays AND Sundays, 9:00 a.m. to 2:00 p.m.
Hawi Farmers' Market (**AS OF AUGUST 27, 2016, DOGS ARE NO LONGER ALLOWED DUE TO A DOG ATTACK**)
Under the Banyan Trees in Hawi (corner of Akoni Pule Hwy (270) and Hawi Rd.)
Saturdays, 8:00 a.m. to 2:00 p.m.; Tuesdays, 12:00 p.m. to 5:00 p.m.
Although dogs are no longer allowed at Hawi Farmers' Market, please visit JABO Treats booth for fresh baked, healthy dog treats, made with locally grown organic fruits and vegetables.