Dog Groomers
Pawfect Dog Grooming & Boarding
55-828 Hawi Road.
Hawi, HI  96719
(808) 640-1157
bigislandgroomer.com
Grooming hours: Monday through Friday, 9:00 am – 5:00 pm (Please call or email to make a reservation.)
Forms of payment: Cash, check, and major credit cards
Life-long dream come true, Yuka Thompson had been wanting to be a professional dog groomer since she was a child.  She owns and operates her grooming and boarding business out of her beautiful home in Hawi.  (Please see our BOARDING webpage for more information on their overnight dog boarding.)  Even on a hot summer day, the ocean breeze through her home was cool and very peaceful, perfect for even a thick-coat dog.  Her grooming facility is separated from the main house and is neat, extremely clean, and has top-of-the-line equipment and natural products to groom your dog.  She uses different products for the task at hand; MicroTek for itchy dogs, Quadruped Yucca Ultra for fleas, Coat Handler for all-purpose, and even separate cleaners for the face, including a sugar scrub.  She has never had a dog react to any of the products that she uses.  Rather than a flat grooming fee for a small dog versus big dog, she has differing prices for most breeds of dogs and will do a lower cost "Bath & Tidy"  for those who just need a thorough skin and coat bath, ear cleaning, nail trim versus a "Full Grooming," which includes a haircut.  She uses a Micro Nano Bubble Shower, which is a "…Japanese cleaning technology that generates micro nano sized oxygen bubbles.  This method cleans hair and skin better because the bubbles are only 0.1 microns in size.  The bubbles are much smaller than conventional shower bubbles so they can clean in and around pores. It can clean the pores literally from the inside out.  The nano bubbles also aid in moisturizing and deodorizing."  Although I had not booked an appointment, Yuka graciously offered to trim our senior girl, Margie's nails and clean her ears.  Yuka was sweet, gentle, and delicate with Margie who I have quite a difficult time with when it comes to cleaning her ears and trimming her nails.  Yuka secured and elevated Margie on the electric-powered grooming table and talked to her softly as she clipped her nails.  I was amazed at Margie's calmness as she seemed to ENJOY the pampering!  Calming classical music and relaxing essential oils wafting through the air make this spacious home-like salon a luxury service for the lucky dog (or one household of dogs) that will always have the whole salon to themselves.  There's no waiting in cages, so your dog(s) gets Yuka's undivided attention.  It is the perfect grooming service for dogs with stress issues.  She books up quickly, so please try to schedule your appointment two to three weeks in advance.  A typical "full" day for her is four dogs between 9:00 am and 5:00 pm.
---
Paws University
73-4259 A Hawaii Belt Road
Kailua-Kona, HI
(808) 325-6436
www.pawsuniversity.com
As of July 2017, Paws University now has THREE groomers on staff, TWO who recently moved here. Paws is SUPER excited to have them on board. Nance Swantek has over 18 years of experience and is a Certified Master Groomer. She has groomed pets in Chicago, Seattle, San Francisco, Oahu, and now the Big Island! Sought after to train other groomers, she has won awards, rebuilt grooming shops, and has owned her own grooming shops. Associate Bather Colleen Whitty has worked with Nance for over 10 years, and together they take the time to make your pet feel comfortable and happy. E komo mai, Nance and Colleen! Check out Paws University's website for their grooming packages and options: http://www.pawsuniversity.com/grooming.html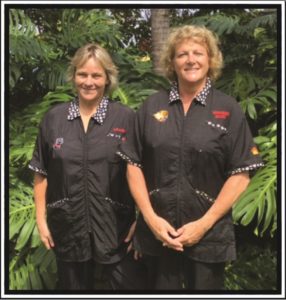 ---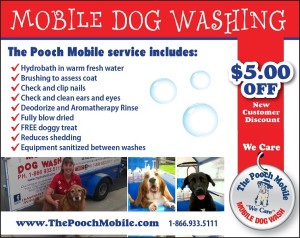 Opened August 2016
The Pooch Mobile (mobile grooming) – EASY ONLINE BOOKING
Covers Kona, Hamakua coast, Waimea, Waikoloa, and Hawi/Kapaau
Grooming Days/Hours: Daylight hours, Tuesday through Sunday; Monday by request.
(808) 990-5040 (Roland Green's cell phone)
Email: bathhounds@gmail.com
Accepted forms of payment: Cash, check, and credit card (w/ credit card fee)
Price range: From $50 – $80 depending on breed/size.  Multi-dog discounts available.
The Pooch Mobile is a company that started in Australia with franchises popping up in the United States.  Roland Green had his Pooch Mobile grooming business in Colorado for 3 years (with hundreds of clients) before moving to Big Island to start Hawaii's first Pooch Mobile franchise.  The company's plan is to add more franchise businesses on the other Hawaiian islands.
This mobile dog wash comes to you, and you are allowed to watch as Roland bathes your dog in this open air trailer with a warm fresh water Hydrobath, using environmentally-friendly shampoo.  Services include brushing to remove light matting and excess hair, nail clipping, ears and eyes hygienically cleaned, deodorant/aromatherapy, blow drying, and a special doggy treat!  The wash takes approximately 45 minutes to 1 hour, depending on breed/size.  Equipment is sanitized between washes.
Review: Who knew that mobile dog grooming with The Pooch Mobile Dog Wash Kamuela would be SO MUCH FUN! Roland Green visited us this past weekend to wash our chocolate Lab, our senior black Lab, and a Pittie girl who is our tenant's dog. These dogs instantly adored Roland as he drove in and didn't even bark at him!–Rare!! He does a fantastic job. Our senior girl has a hard time standing on slippery surfaces, and I was worried about that, but she didn't slide at all. She seemed relaxed, which was a relief. The shampoos are environmentally safe, smell good (but not over-powering at all), and the dogs all seemed really clean and happy. Roland is gentle and careful with all of them and talks to them calmly and sweetly the whole time.
---
Ivory Grooms, Inc. (Serving the entire island)
Waikoloa Village, HI
Call or text her to make an appointment: (808) 936-9552
or email: ivorygrooms@yahoo.com
https://www.facebook.com/ivorygrooms/
Prior to May 2017, Ivory groomed at Petco in Kailua-Kona.  We heard from several of our viewers who RAVED about how great Ivory was and how their dogs just LOVED Ivory.  As of May 2017, Ivory has opened up her own grooming business!  She provides mobile dog grooming and drop-ins at Waikoloa Horse Stables on Sundays and Mondays; Alii Gardens Marketplace (between Lunapule Rd and Royal Poinciana on Alii Drive) on Fridays and Saturdays and by appointment only on Thursdays.
She will travel as far as someone needs her to. There are additional fees based on the distance for doing home grooming service calls. Ivory has a fully-powered (with water) 22-foot trailer complete with air conditioning.  She also has portable supplies if she doesn't have access to bring her trailer.  She grooms Poodles and does many!  She grooms all breeds of dogs as well as cats, guinea pigs, rabbits and eventually horses!  The pets are supplied with water and any treat (owner must provide treat if they want their pet to get a treat).  And if someone needs a different day at that location, she can accommodate them as long as they schedule it in time to where she can change to where she is at that location for that specific day.
Lava Dogs friend, Sara Jane, takes her huge, fluffy dog, Hondo, to Ivory for grooming and absolutely loves her.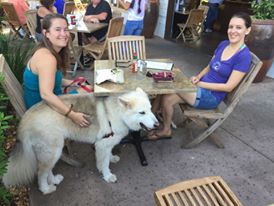 ---
Opened April 2016
A Bark Above – Grooming & Boarding (near the location where Happy Tails -which closed 12/2015- was located)
Located by Aina Hou Animal Hospital at 66-1520 Pu'u Huluhulu Road in Kamuela.
(808) 315-0260
On Facebook: https://www.facebook.com/abarkabove2/
Grooming hours: Monday – Friday 8:00 am – 5:00 pm; Saturday (by appointment only)
Forms of payment: Cash only (but will be taking credit cards, too, soon).
(Please see our BOARDING webpage for more information on their overnight dog boarding.)
A Bark Above Grooming & Boarding is located in Waimea near Tropical Dream Ice Cream factory off of Lalamilo Farm Road (by Parker Ranch Arena). Owner/groomer Patricia Herrera started grooming as part of her dog boarding business (Patty's Quality Pet Sitting Service) "too many years ago to count" when multiple clients asked her to groom their pets.  She took an online grooming course and started charging her clients once she had mastered the basics.  She uses all-natural products, essential oils, and holistic touch, including Tellington "TTouch" (a system of gentle circular touches that works at the cellular level to activate the body's potential) while playing soothing music.  She does not use ties if she doesn't have to, and she allows her furry clients to lay down.  If Patricia's name sounds familiar, she was the first groomer at Aina Hou Animal Hospital when her grooming business was called All Dogs Comfort Grooming back in 2010.
Review: Our dogs don't require much in the way of grooming, but Kimo (our 5-year-old chocolate Lab) is extremely difficult to trim his toenails, and our senior Margie girl (13-year-old black Lab mix rescue) is so fragile and nervous, I felt they could both use a professional grooming.  I dropped them off at 8:00 am, and Patricia introduced them slowly to her (d0g) pack.  We returned at 12:00 noon to two happy, relaxed, nice-smelling, trimmed and tired pooches.  Prices are more dependent on the time it takes rather than on dog breed.  Heavily-matted dogs take much more care and time.  Also depends on length of drying time.  Please call Patricia for estimate and individual needs.
Since then, Patricia has installed fencing (see photos below) for the dogs to freely walk inside and out while they are there for grooming.
---
Kona Commons
74-5446 Makala Boulevard
Kailua Kona, HI 96740
(808) 334-1012
Store Hours: Monday – Friday 9:00 am – 9:00 pm; Saturday 9:00 am – 9:00 pm; Sunday 10:00 am – 7:00 pm
**Coming soon to Hilo (111 E. Puainako Street)!**
---
Downtown Dogs
157 Keawe Street
Hilo, HI
(808) 933-3333
Grooming Hours: Tuesday – Saturday 9:00 am – 5:00 pm
https://www.facebook.com/DowntownDogsHilo
I have not personally had our dogs groomed at Downtown Dogs, but Lava Dogs friend, J-M Burkhardt contacted us to let us know that her two Standard Poodles LOVED their CAGE-FREE grooming experience and socializing with the owner's Standard Poodle, Séamus, and their grooming turned out fabulous.
---
Other grooming facilities that we know of but are not familiar with:
Dog Groomer (Kailua-Kona) – Adjacent to Costco
73-5617 Maiau St., Bay 6
Kailua-Kona, HI  96740
(808) 326-7171
Kealoha Pet Care Grooming Salon (Hilo)
222 Maka'ala Street
Hilo, HI   96720
(808) 747-1511
Salon Hours: Monday, Tuesday, Thursday, Friday 8:00 am – 5:00 pm
Forms of payment: Personal checks and cash
Alina Kealoha-Kawaguchi is the Groomer/Owner who attended Central Bark Grooming Academy in Colorado in 2007 and spent one year grooming in Colorado before returning home to Hawaii in 2008 where she has been grooming since.  Along with her 4 years of grooming experience, she also has 4 years of experience as a Veterinary Assistant which enables her to identify possible infections, tumors, and other illnesses that should be brought to a veterinarians attention. She also has three years of dog training experience which allows us to provide our services to dogs who are not accustomed to being groomed and dogs that have behavioral issues.
Shear Magic Pet Salon (Hilo) – NEW Mobile Dog Grooming van beginning November 2016.  Full dog grooming available.  Hilo area only.
KPC Grooming Salon (Hilo)