Kawaihae Harbor Beach Landing Shipping Docks
DIRECTIONS: Driving North on Highway 270 past Spencer Beach Park, but before Blue Dragon Musicquarium, you will turn LEFT into the entrance for Matson and Young Brothers loading/shipping/receiving area where you will need to show photo ID (Driver's license or any sort of photo ID) to security.  Turn LEFT in front of the security shack and drive down the road between the shipping containers, then turn RIGHT to continue to the beach area.
HOURS: Dawn to Dusk
BRING: Photo ID (to gain access through security), poop bags, fresh water, water bowl, less than or equal to 6 foot long leash (required while on the beach).
IMPORTANT: **Security enforces the county of Hawaii leash law. Dogs must be on a leash no longer than 6 feet.  If your dog is in the water, a leash is not required, but must be put on your animal as soon as they exit the water.**
There are TWO areas great for dogs:
One is the first long, wide stretch of beach that is best visited in the early morning.  There's a nice gradual walk-in perfect for all dogs (and small children).  Water is protected by the breakwall, so it tends to be much calmer.  Local families seem to begin arriving around 10 a.m., and the beach gets a little busier around noon with pop-up tents "popping" up along the beach.
The second area is a short walk/drive past the beach…along the breakwall where there are picnic tables, grass, shady trees, and a nice 2-head "rain shower."  There's also a nice wide metal staircase that leads into the water that I have seen dogs walk down and jump into the water with their humans.  Depending on how agile your dog is and the tide level, you may need to help them back up onto the first stair.  Again, I would recommend getting to this spot early in the morning before families begin to arrive.  Mostly locals.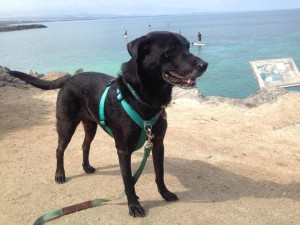 DANGERS: Dropped food scraps (chicken bones, Kalbi beef rib bones, etc.), sharks, and fish hooks (Kimo thought one of the young fisherman was giving him a "tako" treat, so he got hooked, which resulted in an emergency visit to the vet to remove it…Don't try this on your own.)
From Wikipedia:
Kawaihae is an unincorporated community on the west side of the island of Hawaiʻi in the U.S. state of Hawaiʻi, 35 miles (56 km) north of Kailua-Kona. Its harbor includes a fuel depot, shipping terminal and military landing site. Outside of the man-made breakwall of the harbor is a popular surf spot and the Pua Kailima o Kawaihae Cultural Surf Park. The small town features a handful of restaurants and art galleries. To the north of the harbor is the Kawaihae Canoe Club and a small boat ramp. To the south is Puʻukoholā Heiau national historic site, built by King Kamehameha I in 1791. Also to the south is the smaller Mailekini Heiau and the Hale o Kapuni Heiau (shark heiau), which is submerged.